In frock coats and hoop skirts, eager throngs packed London's Crystal Palace, a cavernous glass-and-iron hall, to view the wonders of industry and design on display at the Great Exhibition of 1851. Among the marvels at that first-ever world's fair (folding pianos, expanding hearses, and giant steam-powered hammers) were several pieces of colorful pottery produced by Minton & Co., one of England's leading ceramics manufacturers. Herbert Minton's vivid lead-based glazes and inventive three-dimensional designs stood in dazzling contrast to the drab houseware widely used in middle-class homes at the time. That it was also affordable made the luminous earthenware soon to be known as majolica (in a nod to the refined tin-glazed maoilica of the Italian Renaissance) all the more appealing.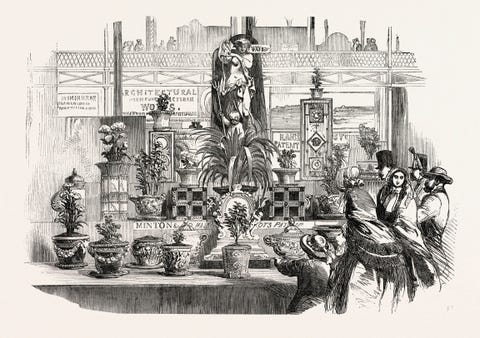 Herbert Minton's smashing debut of majolica at the Great Exhibition of 1851 took London, and eventually much of western Europe, by storm.ARTOKOLORO ALAMY
Spurred by that successful debut, Minton and competing English factories, including George Jones and Wedgwood, as well as makers in Europe and, eventually, America, filled their kilns with it. Notable artists were brought in to mold fanciful, flamboyant pieces that reflected the diverse interests of the day: zoology, botany, ornithology, gastronomy, and Asian art, among them. Function unabashedly followed form. Lifelike storks stalked bulrush umbrella stands, chubby putti cavorted with leaping dolphins in seashell-shaped compote dishes, monkeys embraced coconut teapots fitted with bamboo-shaped spouts. Banquet tables came alive with dishes molded to purpose: welled plates for oysters, linear "boxes" for sardines, basket cradles for asparagus, and bells for pungent cheeses. Game pies arrived in covered tureens cheekily ornamented with molded hares and pheasants. All-too-real-looking lizards, snakes, and eels slithered across massive trompe l'oeil ornamental platters.